TALON (TALON #1)
by Julie Kagawa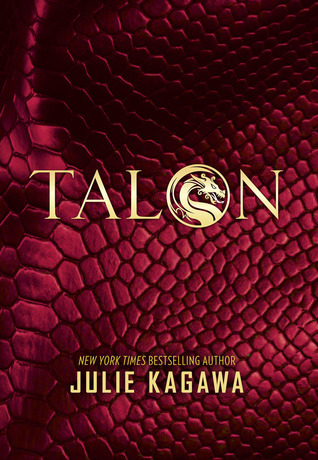 "Long ago, dragons were hunted to near extinction by the Order of St. George, a legendary society of dragon slayers. Hiding in human form and growing their numbers in secret, the dragons of Talon have become strong and cunning, and they're positioned to take over the world with humans none the wiser.

Ember and Dante Hill are the only sister and brother known to dragonkind. Trained to infiltrate society, Ember wants to live the teen experience and enjoy a summer of freedom before taking her destined place in Talon. But destiny is a matter of perspective, and a rogue dragon will soon challenge everything Ember has been taught. As Ember struggles to accept her future, she and her brother are hunted by the Order of St. George.

Soldier Garret Xavier Sebastian has a mission to seek and destroy all dragons, and Talon's newest recruits in particular. But he cannot kill unless he is certain he has found his prey: and nothing is certain about Ember Hill. Faced with Ember's bravery, confidence and all-too-human desires, Garret begins to question everything that the Order has ingrained in him: and what he might be willing to give up to find the truth about dragons."
Rating: ★★★☆☆
3.5 stars
Notes I Made While Reading
DRAGONS. YAAS.
Stupid teenagers and their stupid hormones.
Why is that love triangle even there?
This lovey dovey stuff is starting to piss me off. Please go back to fighting things.
 Even the dragons are hormone-driven?
Ember is soooo annoying.
Ooooh. Going to the mall. How exciting!!….NOT! -_-
 It took me three tries to restart the first couple of pages because I felt like I was shot in the face. I thought this was going to be action-packed with a dash of romance and teenage denial. It turns out that this is packed with a bunch of teenagers who are just learning how to 'teenage'.
I have heard great things about Julie Kagawa and really thought I'd love this book. Dragons is an area that I haven't read much about and thought this would be the perfect start for me. I mean, have you seen the cover? It's absolutely gorgeous.
"In Julie Kagawa's groundbreaking modern fantasy series, dragons walk among us in human form. "
Groundbreaking? Please.
Ember is a dragon in disguise. Dante (her brother) and Ember spend most of their childhood learning how to act human and are sent to California in order to assimilate with humans. But you wouldn't be able to tell because she acts like any other normal teenage girl.
Ember and Dante are twins are quite special. Why? Dragons usually lay eggs one at a time so they don't necessarily have siblings. But these two have been together since they were eggs.

They are part of an organization called Talon- that teaches them how to survive in the real world and protect themselves from St. George (dragon killers).
Oh, Talon also wants Dragons to take over the world someday.

~~~
I have no idea what their instructors taught them but I think they screwed up majorly with Ember. Instead of teaching her how to be human, I think they should have spent a little more time making sure she understood that there's more to a dragon than just flying.
Garret is a soldier of the Order of St. George. A young warrior hardened by war, who has known nothing but the Order. He breathes, sleeps and lives for 'the cause'. His character introduction scene was the only time I was really excited about where the plot was going. The dragon in this scene was what I was looking for. But my excitement was short-lived because they had to throw Garret into the same town as Ember to find a 'sleeper dragon hatchling'. Garret goes from kickass soldier to wimpy teenage boy annoyingly quick. Okay, but I have to be honest, Garret is one of the few characters that I actually liked.
He's one of two male lead choices for this series so there's the unnecessary love triangle quotient.
Riley, the rogue dragon, is the other link in this love triangle. He is supposed to give off a bad-boy aura but he's incredibly annoying when he's talking about Ember.
Garret and Riley both had character depth but just not when their mind was on Ember.
Back to Ember:
When I imagine dragons taking human form, I imagine Jake Long from American Dragon (it's an old Disney animated series. Please google it.). What I got in Talon was a whiny, immature teenage girl who just wants to surf, hang out on the beach with her friends and just generally make her brother's life a living hell.
She is also incredibly dense. Most of the time, it's ridiculously obvious who Garret is and all I wanted to do was smack her upside the head.


I would have actually preferred to have read more about Ember's training sessions with Lillith than one more word about her surfing with her friends.


Also, I didn't see anything wrong with her training (at first). All they were trying to do was teach her how to survive.
[OK, maybe she wasn't that bad. But you try reading 449 pages of this stupid girl.]
This was more along the lines of sad summer romance than a 'groundbreaking modern fantasy'.
 Talon in three words:
Predictable. Teenagers. Cliche.
Conclusion:
I usually don't judge an entire series based on the first book so I'll definitely give Rogue a try*. In my opinion, sometimes the first book kind of drags on to one major climax and the good part of the story continues into the next books.
The .5 star was because of the ending of this book. Overall, it was an okay book. I wouldn't read it again but I like the general idea of it.
*I've already tried to start the second book but put it on hold because it's a little slow.
In a nutshell:
This is what I expected:

This is what I got:

BONUS:
Also, I found this on a wild gif hunt. It perfectly explains Dante Hill.